2ND SEMI-FINAL
---
Welcome to part two of my ESC review. In this part I will cover the brief deal with TVR International before the show and the second semi-final itself.
So TVR International, yeah? I get this channel for almost seven years now. It is useful for me when the second ESC semi-final comes because of delays and all that, and also because Portugal isn't present.
TVR International aired a lead-in show featuring the stars of Romania's song, which we'll cover later. A show focusing on the lives of the participants of an ESC contest? RTP hasn't done a separate show in YEARS! I remember 2B (yes, the show was called 2B, just like the band) and it was about the band preparing for that year's contest. It ended with "And if you live in the UK, don't forget to watch the semi final on BBC 3" and it altered cyclically with other countries. Nonstop (2006, correct me wrong about the band name) had a similar show. Suzy had to get past the horrors of daytime TV to get her "diaries".
The lead-in ended, and after a few promos, the music video of the Romanian entry (which looked very American to me) and an ad, the contest started. I'll tell you about the ad: it was for a brand of salami. I don't remember the name of the brand but the logo had two kids next to a salami on what looks like a basket.
The semi-final started out with a brief look back at the first semi-final, followed by something very creative that looked like a car commercial from a posh European manufacturer. Some dances follow with a violonist and two dancers, the stage is on FIRE!!! and ICE!!!, a tree, apples, pink visuals, and a "stimulating show" (RTP 1 female commentator) starts.
The ESC is like a buffet. Instead of voting with our stomachs, we will vote with whatever they need to vote. Because we cannot vote for this semifinal, we could vote with our stomachs! And the fifteen artists are in our hearts!
LET THE EUROVISION SONG CONTEST BEGIN!
MALTA - Here's a creative postcard from Firelight (taking the band's name almost literally), it's so creative and beautiful and the song is yet another one of those "generally overplayed radio songs". At first sight, it reminded me of a song by David Fonseca.
ISRAEL - So we have the Dead Sea and the flag looks like it was made out of some weird materials. The song is very nice, too. I thought that the artist in question was called Same Heart (I was like "Dana International, eat your heart out!") but then again I had my brain playing tricks.
NORWAY - A carpenter and a touchy song. It's capable of getting anyone tired or looks like the soundtrack of a romantic movie.
GEORGIA - The flag on 366 wine glasses, and the song... That's the only other ESC 2014 entry that starts with a "sort-of Lion King opening"! The other one being that AWFUL artist Suzy... It's a mix of various genres, becoming at one point something similar to the theme song of an unknown American show.
POLAND - I liked this postcard: very original, using the voice of the artist to make the Polish flag. The song is a bit weird, it's a sensation in the song's native country, they are washing and singing what looks like typical AMERICAN hip-hop on top of the music that's playing. Mixed results for this one.
Time to take a break and let's take a look at the fourth entry in the Eurovision Book of Records. This time: most claps: Austria got that in 1976, with a frand total of 157 CLAPS!!! That's so EXCITING!!!
Speaking of Austria...
AUSTRIA - Meet Conchita Wurst. She is a bearded lady. Not really, she is actually an alter ego created in 2011 by Tom Neuwirth, as a symbol of tolerance. Her motto is: "Be the best version of yourself rather than a bad copy of someone else!". Actually I'm the best version of myself, see what I mean...
The song is more or less like the theme song of an old James Bond movie.
LITHUANIA - Very original postcard, indeed. It has umbrellas!
The song sounds more or less like 90s dance music from an unfamiliar European producer. Well done, Lithuania, you can still make music at the same level as the 90s dancecharts.
FINLAND - The flag is made of ice. Wonderful. I like the name of the band: Softengine. Makes me remind of:
a) a Linux OS
b) a boysband from ten years ago
c) both
It sounds like some sort of song you could listen to on the radio (but not a lot). It has neat visuals too!
IRELAND - Balloons. They're having the time of their life. The song sounds more or less like an energetic ballad.
BELARUS - So much work to make the flag... How did he get all those disks? The song is pretty nice, it could be overplayed in Belarus but not in Portugal. Neat visuals for Belarus.
MACEDONIA - A violin, sand and perfect timing. As Chef Excellence likes to say, 'An Excellent Experiment'. As for the song itself: nice, the same is true for the visuals which look like the kind of visuals Windows Media Player never had.
SWITZERLAND - Wow, the domino effect. I'm surprised. He did that at a hotel that was featured in a movie. Part of it sounds like the theme song of an obscure 90s cartoon.
Now this part wasn't broadcast on RTP 1 but I watched it in advance before the second semi-final: the fifth entry in the Eurovision Book of Records. This time, we have the Most Licks.
Johnny Logan licked 30 times in 1987. He is known as the "Irish Licker".
GREECE - And that's what I like to call "shells on a towel". It's one of the best song, reminds me of a dance song from the 90s with some rap thrown in for some mad reason. The visuals were pretty good (incluidin Tetris ones) and there was even a trampoline!
Another highlight is the name of the artists: Freaky Fortune feat. RiskyKidd.
SLOVENIA - The flag is made out of books (filmed at the library of Ljubljana University). It's a mix of songs from ten years ago (mostly based on Britney Spears) and the artist looked like Elsa from Frozen at the start.
ROMANIA - Fireworks. I'm impressed. The song is another mix, it looks like Avicii's "Don't Wake Me Up" at a moment and it also has something remarking in the lyrics: they pronounced miracle as "miricle". Anyway, that song was a miracle (or a miricle) for them later on...
Once all fifteen songs were performed, we get to see an interval act RTP 1 DID actually air. Australia "joins" the ESC with a song about cultural exchange between Europe and Australia that was very Broadway-y and the guest appearance of Jessica Mauboy from Darwin singing "Sea of Flags".
After the interval act focusing on Australia's love affair with the contest, we see that Sydney looks beautiful at 6:27 in the morning, and we get to see various people dancing. Lena from 2010 is making a guest appearance and then Tom and Kit become the subject of laughter because they are so old. Tom is an adult and Kit is an old woman.
My highlights are focusing on Finland: we get to see the highschool where the members of Softengine study and a message from one of their teachers followed by lots of their fans. The other highlight was Austria, with this fabulous cover made by Conchita/Tom himerself (a new word I invented):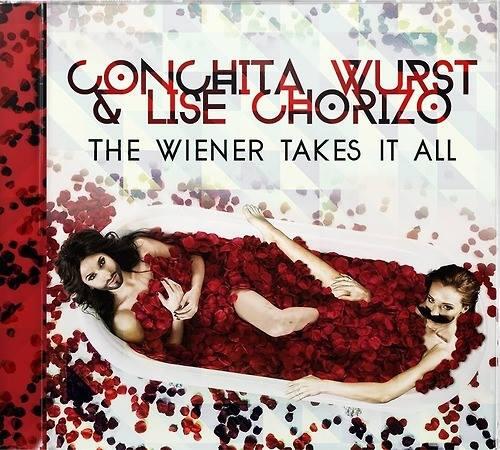 Now let's clean this for a while with a picture of Softengine:
We then have another entry in the Eurovision Book of Records: the Longest Note, belonging to Malta in 1992. It was at the end of the song.
After that, we take a look at the then lucky countries that want to go to the final:
Switzerland
Slovenia
Poland
Romania
Norway
Greece
Malta
Belarus
Finland
Austria
Out goes Attention and in go the Romanians, whose song ACTUALLY put them on the final, the 90s sounding Greek artists with the trampoline, the bearded woman and a few others that make this a truly memorable ESC. Who will win? The answers are in Chapter 3: THE FINAL!!!